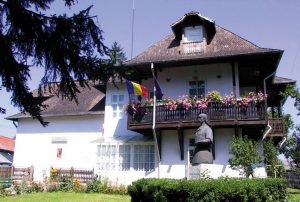 Under the master's adroit hand, things acquire a life of their own, a warmth that is translated at the surface of the painting through thousands of glitters that fascinate you and make you stand still through their imperceptible radiation, so that you cannot help wondering at so much craftsmanship, at so much beauty. You sometimes find it hard to believe that what is there has been obtained only with the mere tools a painter has at his disposal; it seems that the gentle flutter of a wing has spread colour in ever more translucent, ever hazier tones. Thus, landscapes veil themselves up in a mantle of light whose waves fondle our gaze, communicating to the soul impressions that have been unknown to it that far; with their maiden-like serenity, peasant girls' faces attract you from afar with the warm soul that palpitates under the mesh of their silky eyelashes. Entirely personal, the master's scholastic technique has variations rendered with amazing skill.
Apcar BALTAZAR
Nicolae Grigorescu (b. 15th May 1838, Pitaru, Dâmboviţa County, d. 21st July 1907, Câmpina) is the first of the founders of modern Romanian painting, followed by Ion Andreescu and Ştefan Luchian, having become a symbol for the young generations of artists who, during the first decades of the 20th century, were striving to identify and bring to light the profoundly characteristic values of Romanian spirituality.
Nicolae Grigorescu was born in the Pitaru village (Dâmboviţa County), as sixth child of Ion and Ruxandra Grigorescu. In 1843, when his father died, the family moved to Bucharest, in the Brickmakers' Quarter, in an aunt's house.
After an early apprenticeship (1848-1850) in the workshop of the Czech miniaturist and church painter Anton Chladek (1794-1882), he painted icons for the church in Băicoi (Prahova County) and for Căldăruşani Monastery. In 1856 he achieved the historical composition Michael dropping the standard, which he presented to Prince Barbu Ştirbei, alongside a petition by means of which he requested financial aid for his studies. In 1856-1857 he painted the new church of Zamfira Monastery (Prahova County), then, until 1861, the church of Agapia Monastery. Upon the intervention of Mihail Kogalniceanu, who appreciated the quality of his painting, he was granted a scholarship to study in Paris.
In the autumn of 1861, young Grigorescu left for Paris, where he was admitted to the School of Fine Arts, attending Sébastien Cornu's workshop (1804-1870), where he was a fellow student of Auguste Renoir (1841-1919). Being aware of the gaps in his own artistic instruction, he would study drawing and composition in the first place. However, he would soon leave this workshop and, attracted by the artistic outlooks of the Barbizon School, he would settle down in this place, achieving his pictorial education by assimilating the experience of such artists as Jean-François Millet (1814-1875), Camille Corot (1796-1875), Gustave Courbet (1819-1877) and Théodore Rousseau (1812-1867). Influenced by this artistic environment, Grigorescu was concerned about acquiring certain innovating means of artistic expression, in the atmosphere of the cult for plein-air painting, which prepares the close Impressionistic advent.
He participated in the Universal Exhibition of Paris (1867) with seven paintings, he exhibited the Young Gypsy Girl painting at the 1868 Salon in Paris, returned to Romania several times and, starting with 1870, he participated in the Living Artists' Exhibitions and in those organized by the Society of the Fine Arts' Friends. In 1873-1874, he took study trips to Italy (Rome, Naples, and Pompeii), Greece and Vienna.
In 1877, he was called to accompany the Romanian army as a "battle-front painter", performing drawings and sketches on the spot that would lie at the basis of future compositions, in the battles of Griviţa and Rahova.
From 1879 to 1890 he worked particularly in France, either in Brittany, at Vitré, or in his Paris workshop. Returning to Romania, he opened several personal exhibitions at the Romanian Athenaeum, between 1891 and 1904.
In 1890, he settled down in Romania and devoted his work mainly to rustic themes, in an endless variation of motif, painting peasant women's faces, carts pulled by oxen along dusty country roads and numerous landscapes with a Romanian specific.
In 1899, he was elected member of the Romanian Academy, being the first plastic artist to whom this honour had been granted.
Nicolae Grigorescu passed away on 21st July 1907 at Câmpina. His last work, Return from the Fair, stayed unfinished on the easel, in his workshop.
In a decisive moment for the establishment of modern Romanian culture, Nicolae Grigorescu performed a spectacular renewal of the plastic language. With a training marked by the vein of mural painting traditions he came close to during his young years and, equally, by the Impressionist painters' experiments, Grigorescu manifested himself in various genres with an authority that would extend even after the artist's disappearance. The overwhelming influence he had on his contemporaries also marked the evolution of the generation that followed him, his creation thus inaugurating a pictorial tradition of ample resonance.
Aspects of a completely original style and vision claim recognition in his portraits, in compositions inspired by his experience of participating in the War of Independence (The Attack on Smârdan, Soldier in the Cavalry Troops on Horseback), in his series of Carts Pulled by Oxen, in the landscapes painted in the country or during his journeys abroad (At Posada, Earthen House in the Forest, Flower-strewn Path, The Fisherwoman in Granville, City Crossroad at Vitré).
The exercise of outdoor painting brings luminosity to his palette, as well as an unusual mixture of rigour and spontaneity to the plastic construction pattern.
An eminent personality of Romanian plastic art, revealing an extraordinary talent associated with great receptivity and inexhaustible creative resources, Nicolae Grigorescu caused a fundamental change in the evolution of painting and artistic taste in Romania. A strong and complex temperament, lyrical through his nature, endowed with a sensitivity that enabled him to adapt the poetic idealisation inspired by the Barbizon School to the Romanian environment and landscape, he remains the first Romanian painter of European circulation.
The "Nicolae Grigorescu" Memorial Museum in Câmpina is a subsidiary of The "Ion Ionescu-Quintus" Art Museum of Prahova County.
The painter Nicolae Grigorescu lived the last years of his life in this house, from 1904 to 1907, where his last workshop can also be found. He retired to Câmpina with his whole family: his wife, Maria Danciu, and his son, Gheorghe Grigorescu.
He chose this town for its patriarchal air and especially for its surroundings of unequalled beauty: the banks of the Prahova River surrounded by hills covered in specific vegetation, the endless blue of the sky, elements that we often find in his work of this period.
The house, built by the artist himself, burnt down during World War I because, unfortunately, the German Headquarters for the whole area had been settled here, so that, towards the end of the war, a great fire turned it to ashes. Some of the objects, especially those on the ground floor, could be saved, which made it possible for the artist's house to be reconstituted (the workshop, the dining room, the library) between 1954 and 1955, The Memorial Museum opening in 1957.
The paintings on display come from the initial patrimony of the artist's memorial house or have been borrowed from the collections of the Art Museum of Ploieşti City, as well as from those of the National Art Museum of Romania.
The reconstruction took place under the direct guidance of the artist's son, the photos taken during Nicolae Grigorescu's life being of great help.
The reconstruction plans were performed by the architect Popişteanu in Câmpina, while Nae Goage, an amateur sculptor and, for several years, an apprentice of the painter's, contributed, alongside Gheorghe Grigorescu, the painter's son, to an as faithful restoration of the building as possible.
Nicolae Grigorescu is Romanian with all his heart and throughout his work. (…)  His friendship with French artists failed to tear him away from Romanian meditation, from the memory of doinas, from the image of the vast Danube Plain, silvered with dust, from this sweet country of hillocks, with vineyards and shingle-covered little houses. (…) He remains a poet, and his art is a bird's song. He is Romanian through feeling, through his delicate lyricism, through the congeniality he puts into his paintings, through the choice of his motifs of a melancholy vastness or of a dreamlike intimacy, through what he has tender and spiritual in his manner.
Henri FOCILLON
It is his works that retell Grigorescu's life. A simple, quiet, ordered, strong life fully devoted to his art. There was nothing else besides art for him. That is where he placed his deep love of nature, of its jewels and secrets, which are wonderful everywhere, but especially in the country and in the being of his people, that is where he placed his love of good, of truth and beauty…
Alexandru VLAHUŢĂ
One of the greatest and purest glories of our homeland and of our people, a great modest hero of art, a giant worker, an intimate of nature to whom he used to talk directly, without teachers or translators, with a Romanian soul of genius-like energy and light is gone… The great Grigorescu has passed away. And it seems to you, in such circumstances, that a spiteful hand has rushed towards your country's mantle of glory and honour and has snatched one of the purest jewels that adorned it, never to give it back again.
Opening hours: – tuesday ÷ sunday: 9 – 17
– monday: close
On public holidays the museum is closed
Address: Bulevardul Carol I, nr. 108 – Câmpina
 GEO: 45° 8′ 3.97″ N, 25° 43′ 59.05″ E
Google maps

Phone / Fax: +40 244 335598
QR Code: